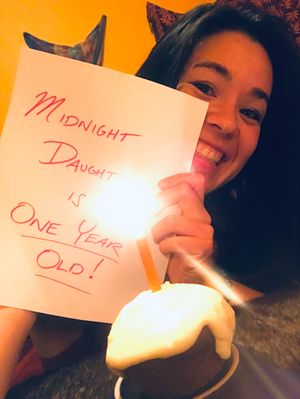 Hi Lovelies!
We just celebrated our 1 Year Band Birthday (a.k.a. our first bandiversary!)  on August 30th.  It's really exciting and crazy that we've been in a band relationship together for ONE WHOLE YEAR.  (NOT TOTALLY SURE HOW BRYAN DEALS WITH ME BUT GLAD HE DOES!  I LOVE YOU, BRYAN!!!!  <3 )
It is also incredible to reflect on how far we've come in not-so-long of a time.  
Since August 30th last year we:
Rehearsed 7 new songs (and rehearsed for over 30 hours??) for our first show
Played our first show at Tim's Tavern!
Got HIGH AT THE MUSEUM (Seattle Art Museum) for our first Band Name Quest
Chose our band name while on KISW!
Did kickass band photos @brookecphoto
Played MORE shows (Conor Byrne, Skylark, Darrell's Tavern, Lowercase Brewing, and Starloft)
Went on a band retreat to go look at sad, wet bald eagles. #PNW
Toured London Bridge Studios (#iloveSoundgarden)
Found our mentor, Andrew Joslyn
Filmed our Tiny Desk Contest Submission video!  
Became depressed because of Coronavirus (I did.)
Rallied support from several of you lovelies on PATREON.  Thank you!!!
Were selected for TINY DESK TOP SHELF  WASSUPPP
Got featured on our first PODCAST:  KEXP's Weekly Mix  WASSUPPP
Ran into Kevin Cole at the park!  WASSUPPP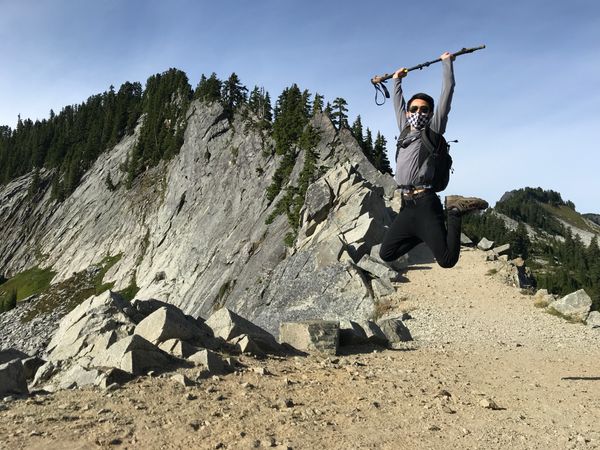 We were going to go on an overnight backpacking trip for our bandiversary, but I actually had an extremely stressful and somewhat traumatizing week the week leading up to it, so we instead opted for a very awesome dayhike at the Kendall Katwalk.  (And then we got Dosas!!!)

Several days later, I made us cupcakes. Which I ate, because #self-sacrifice and #coronavirussafety.
For our band birthday, I want to express my deep and sincere thanks, gratitude, and RESPECT for my incredible music partner in crime, Bryan Djunaedi.  Thank you for hundreds of hours of practice, for your relentless pursuit of perfection, for your awesome harmonies, for your ASS-KICKING MUSICIANSHIP, for keeping me in tune, for your hugs, for your understanding, for BELIEVING IN ME, for BELIEVING IN US, for dreaming BIG, for being open to all my woo-woo spirituality stuff, and for always knowing what to say when I am pissed off or need to cry all over your shoulder.  I feel so deeply lucky that we are on this journey together.  <3